What People Are Saying About DogWatch by Billone Fence
Dempsey
My name is Dempsey and I am the happiest little dog ever since we got our DogWatch system! It is so great to run free in the yard without a pesky chain. It is great! I have never had so much fun! 
We want to hear from you! Write us a review on Google+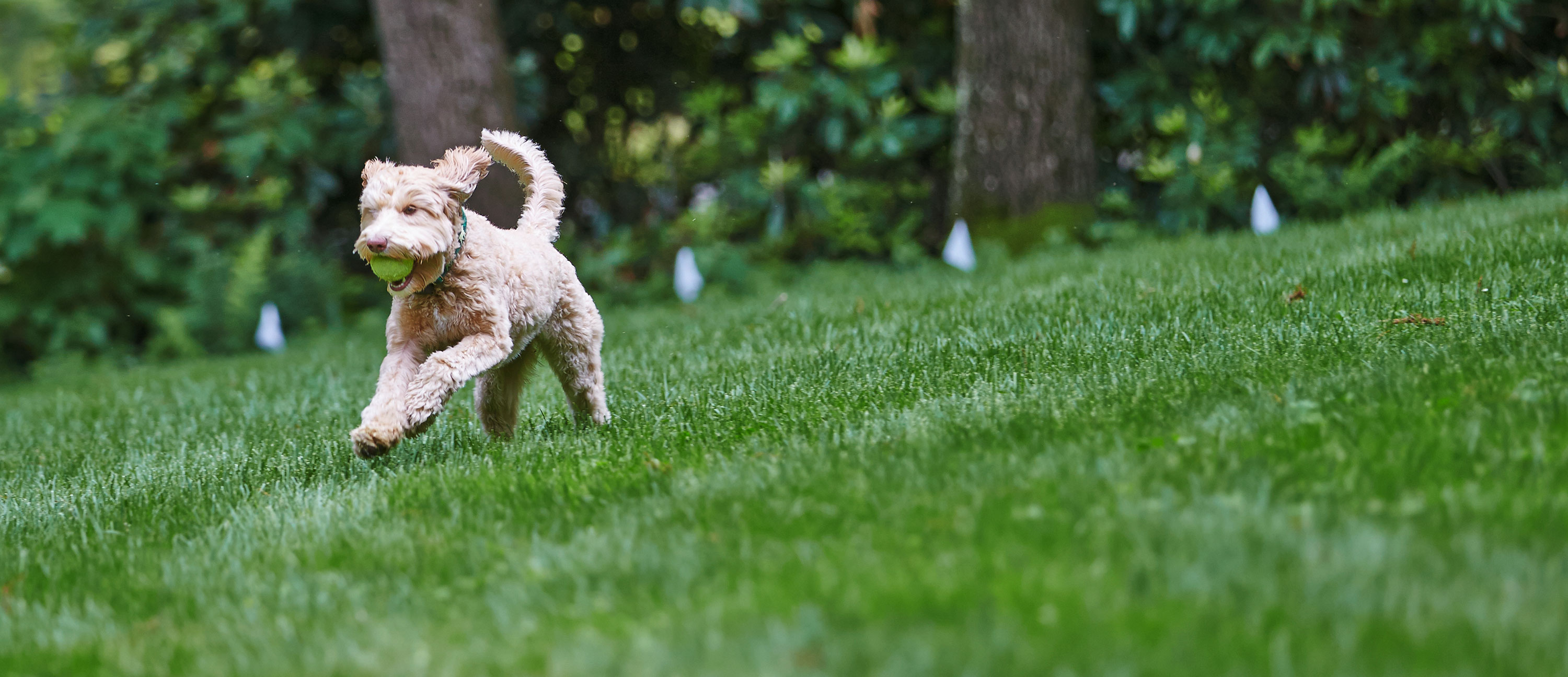 Brady and Bibi – Pittsford, NY
I have seen what poor training can do to a dog's confidence. Your professional, skilled and kind training techniques have been nothing less than a gift. Thank you so much.
Steve and Jen – Indian Creek Farm
We own a 40 acre farm in Ithaca, NY. For the past 10 years we have been fighting the deer, which has been a losing battle. Our crop losses were in the many thousands of dollars every year. Instead of building a 10 ft barrier fence, which would have cost a fortune and would have been extremely ugly, we decided to go to the dog pound, get 6 dogs that love the outdoors and use a radio collar fence to keep them in so they could keep the deer out. An orchardist friend who has several hundred acres recommended DogWatch. He tried out all of the other companies and DogWatch had the best service, guarantee and products of them all. The dogs are extremely happy because they get to be dogs. Jen is extremely happy because her dogs are safe from the highways, and I am extremely happy because my crops don't get eaten by the deer. Everybody is happy!
Schicker Family  –  Webster, NY
I am a customer of DogWatch Hidden Fence and let me tell you my dogs LOVE it! It was the best thing I ever did for my dogs. I have 4 dogs of my own and currently have 2 foster dogs in which I am a foster parent for thru Buffalo pug and small breed rescue, (Buffalopugs.org).They absolutely love their space and freedom, but they KNOW their limits. I love the secure feeling that they know where than can and can't go. This is a great system and my dogs, Banditt, Jessie, Shilo, Gizmo, and the foster dogs Lola and Dino thank me every day by showing me that they are perfectly happy, VERY happy. Thank you DogWatch for giving me the ability to see my dogs true expressions.They all run and play together with such extreme joy and happiness that it is absolutely PRICELESS!!!!
Midas D.
I love my DogWatch electric fence. I can come and go as I please through my dog door and don't have to scratch at the people door and get cursed at. (I hate to have to do that.) My only complaint is that I can't greet the kids at the bus stop. Sometimes Mom accidentally cuts the underground wire with the garden spade and I get to explore the neighborhood for awhile until Dave comes by to fix it. He and I have become great friends. (Look for my picture on the cover of Dad's book, Dougherty Revisited) Midas has passed away, but the system still contains their new dog.
Ron and Kathy R.  – Fairport, NY
After Bailey got hit by a car, we installed the DogWatch system. It was one of the best things we've ever done. Bailey is a completely different dog; he spends much more time outside (his favorite place to be), gets more exercise (thanks to the squirrels), and we know he is safe. Also, Dave and Teresa have been great. When we had septic work done, they helped us keep our system running through all the contractors coming and going. We are very happy customers.
Lock and Teagan H. – Fairport, NY
Our dog, Cody, is a part of our family and we love her very much. Before, we would go outside to play and sometimes we might forget she's with us. Now that we have our DogWatch hidden fence, we don't have to worry about wondering where she is and if she's safe. We know right where she is at all times! Cody enjoys her freedom and DogWatch keeps her safe.
George & Marianne J. – Wolcott, NY
Our dogs absolutely love the freedom they have with our hidden fence system! Madigan and Kerrigan, our Irish Setters, love to explore, and are able to "just be dogs" in the 2 acres we have fenced for them. Scooter and Sadie, our rare breed Mi-Ki's, also love the freedom, and try to keep up with the "big girls". My sister, who lives in Dansville, also has Irish Setters (sisters to ours), and when we get together, our dogs can also get together, because she also has the DogWatch System! Most recently our son had the fence installed for his lab, Lola. He says it's been worth its weight in gold! And now our dogs are able to visit with Lola, too! The Billone's take excellent care of their customers and we highly recommend this system to anyone who "adopts" a puppy from us! We will never be without the peace of mind that this system gives us.
The Royka Family – Macedon, NY
Ollie is safe and secure in his DogWatch Hidden Fence and that makes us happy pet owners. We can't say enough about how wonderful the Billones' have been in making sure Ollie is at home and free to play in his yard. We truly feel they care as much about our dog as we do. Thank you Billone's and thank you Hidden Fence for a state-of-the-art product.
Cindy Fleischer – Pittsford, NY
My dog fence, installed eighteen years ago by Invisible Fence (IF) needed some service. The tech from IF insisted I needed completely new fence wiring buried because my wire had at least five breaks around my acre lot. Since IF couldn't complete the job until a week after the diagnostic appointment, I called two other companies to get second opinions. Not only did DogWatch ascertain immediately that the wire was NOT broken by hooking up their portable unit, the tech was able to trade in my old collars and transmitter and install a new system on the spot for LESS than 2/3 the price quoted for replacing perfectly fine wire. The fence works properly and my dog is once again contained to our property! Thank you, DogWatch for your ethical business practices, prompt and respectful service and for saving me a ton of money.
The Foster Family – Fairport, NY
We are so pleased with our DogWatch Hidden Fence. Jackson, our lovable Lhasapoo always wants to be outside. With the hidden fence, he can be outside all he wants, and we don't have to worry about him. Jackson is known to sit at the end of the driveway (just behind the hidden line) and wait for the neighborhood kids (and adults and other dogs) to come into our yard to play with him. He never crosses the line. Even when we take the collar off and put on his leash for a walk, we have to pick him up and carry him across. With Dave's expert help, Jackson was trained in no time. And, we even get a replacement battery sent in the mail, so we never forget to replace it. It's a great system!
Mary K. – Gates, NY
Being a senior citizen who struggles with arthritis, I found it difficult to get my dog out for walks and exercise she daily needs. I decided to investigate my pet containment options. DogWatch is, by far, the most user friendly and responsive system on the market. It is comforting to do business with a company that is locally owned but nationally known. Sasha is as happy as can be romping around the yard, especially on the days that I'm not up to joining her romp. We love our DW system!
Pete and Wendy C. – Fairport, NY
Hi! My name is Dempsey and I am the happiest little dog ever since we got our DogWatch system! It is so great to run free in the yard without a pesky chain; I know my boundaries and I am free to explore and patrol around the house and the whole yard. It is great! I have never had so much fun! And my Mr & Mrs know I am safe all the time. Thanks again and I will see ya 'round the house when you come to visit! 
Kristina Hutch M.
My vet said it couldn't be done with cats, but they proved him wrong. The only times they've left the yard have been when the batteries were dead. As long as you stay on top of that, it works great.  4 cats and 2 dogs on the DogWatch fence.
Mike A.
I've had two large systems installed at my last two houses. They trained my dog Benny who is very challenging to keep around. I almost had to give him up. They saved him. I would recommend them to anyone.
Christopher G.
I am so pleased with the DogWatch system we had installed by Billone Fence. Teresa (owner) was super responsive with all of our questions and really helped sell us on the system. They installed it and set it up in no time and now we have a safe and affordable way of containing our Great Dane and Newfoundland. After comparing Invisible Fence® brand and DIY options, we felt that the price and warranties of DogWatch, coupled with its leading technology was the best option for us. It has been a month since they installed the "fence" and we have no regrets as our dogs always respect the boundary. Thanks DogWatch by Billone Fence, you really did an awesome job!
Laura L.
Love my DogWatch system! Teresa and her husband were more than accommodating in installation an even more so with other needs after! Our Mozer lives a great life cause he has so much space to roam! Very personal and professional in all they do! Highly recommend!
Jesse C. – Rochester, NY
My family were long-time users of "The Other" fence brand.  Had it for many years over many dogs and a couple of houses.  It worked quite well until I came along!  My name is Jesse and I'm an Alaskan Malamute mix who doesn't always see a reason to follow someone else's rules.  I like to go out and explore—maybe chase a few rabbits or squirrels — and it seems to me that my domain is everything I can see.  With the old fence, it was EASY!!  Since the other guy's collar batteries don't last very long (a few weeks at most) and since they wear down faster the more the fence is challenged, I was out all the time!  I'm always checking the fence to see if I can get through it and that drains those other batteries really fast.  Also, their collars don't have any way of letting the humans know if the battery is getting low, or if I'm challenging the fence.  On top of that, anytime my family wanted to change the intensity of corrections on my collar, they had to either take me and my collar to the dealer, or have a technician come to us.  Since I'm very shy and hide from strangers, the second option was not helpful at all.  (The first was just plain inconvenient.)  After talking with the other fence company and discovering they really had not updated their technology since they started, and they had no user-adjustability on the collars, my Mom went online to see what else was out there.  It had been many years and she was sure there must be something better.  There was—DogWatch!  After comparing the options of ALL of the available systems, she was really impressed with how advanced and user-friendly DogWatch systems were.  Me, not so much.  Now, everyone knows at a glance if I've been testing the fence.  They also know if my collar battery is getting low—and speaking of batteries, for your average dog, DogWatch batteries last TWO YEARS, and when you need a replacement, you can go to the local electronics store to get one!  My people can also adjust every collar for a particular dog—all by themselves, without the need for a service call.  My collar is set for a quick response and it gives me a stronger correction for a whole day after I 'test' the fence.  My housemates have collars set to a low correction level, or even just an audible for one of the shy little Italian Greyhounds.  And guess what?  Everybody is staying in the yard—even me!
Tell Us Your DogWatch Story!
We'd love to hear from you, too! Please consider filling out our customer feedback survey to tell us about your experience with DogWatch.